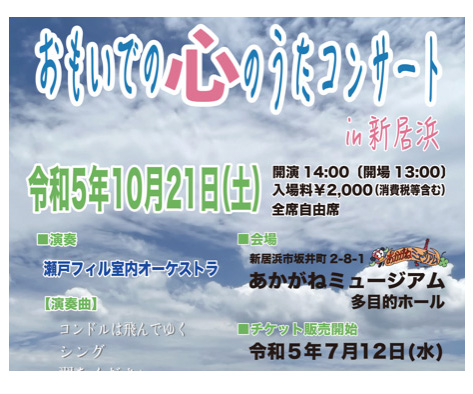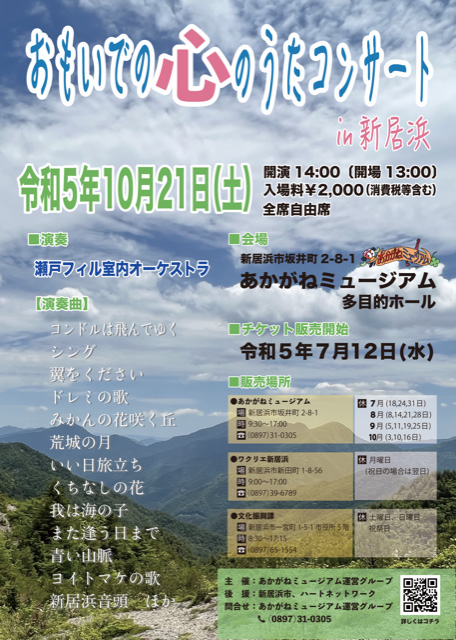 Omoide no Kokoro no Uta Concert in Niihama
The Seto Philharmonic Orchestra Chamber Orchestra will hold an "Omoide no Kokoro no Uta Concert".
Locally-born vocalists and boys and girls choirs will also appear!
Please enjoy \ a performance that resonates with your heart / at the Akagane Museum!



♪ Performance song ♪ Condor flies away Sing Please give me wings Doremi's song Mandarin orange blossom hill ♪ Ruined castle moon Departure on a good day Gardenia flower I am a child of the sea Until the day we meet again ♪ Blue mountain range Yoimatoke's song etc.

Tickets are now on sale!
Name

Omoide no Kokoro no Uta Concert in Niihama

Holding period

2023/10/21 (Sat)

Open time

13:00 open 14:00 start

Venue

Akagane Museum Multipurpose Hall (Akaganeza)

Parking

Akagane Museum north-south parking lot 3 hours free

Fees

Ticket 2,000 yen (all seats are unreserved)

Inquiry

Akagane Museum Management Group 0897-31-0305